Enigma machine used at Cheltenham Science Festival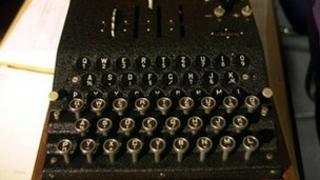 An original World War II Enigma machine is to be used to encrypt messages that will be decoded at Bletchley Park, as part of Cheltenham Science Festival.
The recreation of the code-breaking process is part of celebrations to mark the centenary of Alan Turing's birth.
A reconstruction of the Turing Bombe will decrypt messages which will be tweeted back to Cheltenham Town Hall.
GCHQ said it would be the first time the public had the chance to encrypt messages on an original Enigma machine.
Iain Standen, from the Bletchley Park Trust, said Turing would have been "fascinated" by modern uses for computers such as Skype and Twitter.
"He envisaged the computer back in 1936 and wrote a paper which is a seminal paper for computer science, and he would undoubtedly be very impressed by how we use [computers] today.
"One of the original Enigma machines will be used [in Cheltenham]. GCHQ have them as well as here at Bletchley Park, so people will be able to get their hands on one."
'Inspirational work'
Turing, part of the team at Bletchley Park in Buckinghamshire which cracked the Enigma code, was born on 23 June 1912.
He helped to create the Bombe machine which was used to crack the code used by the German military in World War II, and later came up with one of the first designs for a stored-program computer.
As part of the activities, Cheltenham Amateur Radio Association will transmit encrypted messages to Bletchley Park in Morse code.
They will be received by their counterparts in the Milton Keynes Amateur Radio Society who will hand them on to be decrypted.
A spokesman for GCHQ, based in Cheltenham, said: "We are delighted to work with Bletchley Park and our amateur radio colleagues to highlight Bletchley Park's remarkable wartime work and in particular, the role of Alan Turing in developing the Bombe decryption machine.
"It was the mechanisation of the decryption process that helped turn the tide of war and it is fitting that during this centenary year we should pay tribute to his vital and inspirational work."
Turing committed suicide in 1954 aged 41.
In 1952 he was convicted of gross indecency following a relationship with another man and underwent hormonal treatment as an alternative to prison.
There are calls for him to receive an official pardon.
The Times Cheltenham Science Festival will take place from 12 to 17 June.