Street party to help gas explosion families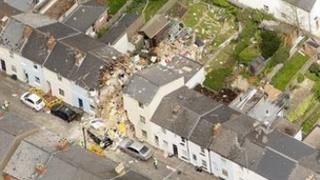 Proceeds from a Jubilee street party in Cheltenham are to be donated to people affected by a suspected gas explosion.
The party is taking place in Rosehill Street on Sunday close to where a house was destroyed in the blast on 10 May. Two other homes had to be demolished.
Locals said they wanted to raise cash for The Fire Fighters Charity to thank the emergency services and to help people who were affected.
An 81-year-old woman who was injured has now been released from hospital.
Michelle Garland, who lived in one of the neighbouring houses that had to be demolished, said the fundraisers had been "kind and generous".
"I'm incredibly grateful. It's humbling to see people who want to come out and help and care for people in their community."
She is now living with friends in Cheltenham.
The street party for neighbours, family and friends to celebrate the Diamond Jubilee had already been arranged before the explosion happened.
Organiser Ellie McGuffie said: "We want to celebrate that everybody came out of this alive so we want to all get together and have a rip roaring do.
"There are a number of families that aren't allowed back in their homes.
"They're staying in short-term accommodation until their houses get back to normal so anything we can do to help them and make their lives more comfortable would really help."
Mrs McGuffie said more than £600 had been raised already.