Views on Gloucestershire library times are sought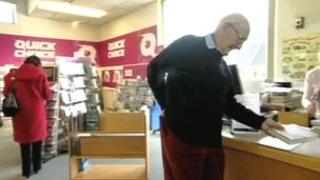 Library users in Gloucestershire are being quizzed about opening hours after cuts of £1.8m were made to the service.
Gloucestershire County Council will continue to run 31 libraries but seven will lose funding and be run by local communities.
Nine libraries will be open six days a week, while a further 12 will open five days. Ten others will open for between 12 and 21 hours a week.
The council is now asking users when these should open during the week.
Consultation questionnaires will be available at libraries such as Longlevens, Lydney, Cinderford and Chipping Camden from 28 May.
A mobile library service will also operate while there will also be an online service.
A previous council decision to cut £2.6m and stop funding 10 libraries was reversed after it was judged unlawful by the High Court.