Slimbridge Wetland Centre cranes return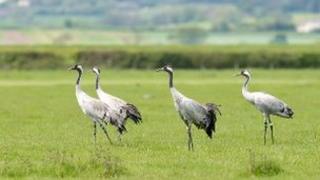 Four adult cranes have returned to the Gloucestershire wetland where they were reared as chicks.
The birds were reared at Slimbridge Wetland Centre in 2010 and 2011 before being freed into the wild in Somerset as part of the Great Crane Project.
They returned to the reserve at the weekend, sleeping on a salt marsh on the banks of the River Severn.
A Slimbridge spokeswoman said it was the first time any of the cranes had returned to the centre.
For the past three years, staff from the Great Crane Project have been travelling to Germany to collect eggs from the country's wild population of Eurasian cranes.
They are then transported to Gloucestershire by road where they are hatched and reared.
'Old friends'
At three months old, they are taken to an undisclosed location on the Somerset Levels.
Nigel Jarrett, the centre's head of conservation breeding, said the return of the cranes "was like favourite old friends turning up unexpectedly".
"Time will tell how long they stay here," he said.
"It is natural for young adult birds to explore, so even though we are 70 miles away from the release site in Somerset, it isn't a great distance for them to fly.
"We are delighted that they appear to be finding food easily and a safe place to sleep each evening."
The Great Crane Project is a partnership between the Wildfowl and Wetlands Trust, the Royal Society for the Protection of Birds (RSPB) and Pensthorpe Conservation Trust, with funding from Viridor Credits Environmental Company.
It aims to restore wild common, or Eurasian crane, to the UK wetlands. It was lost as a breeding bird 400 years ago after nesting sites were drained.
The project hopes to have released 100 birds by 2015.