Residents attend meeting after Cheltenham terror arrests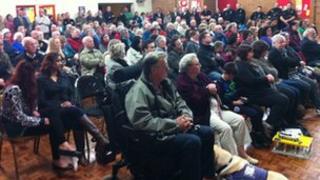 More than 100 Cheltenham residents have attended a meeting called by police after two local men were arrested on suspicion of terrorism offences.
The pair, aged 52 and 31, were initially held under the Explosive Substances Act after suspicious items were found in a garage on Friday.
They are now being quizzed on suspicion of the commission, instigation or preparation of a terrorist act.
The meeting took place at St Margaret's Hall in the Hatherley area earlier.
Representatives from the police, the fire service and Cheltenham Borough Council answered questions.
'Lasting impact'
Liberal Democrat borough councillor Andrew McKinlay said the meeting was about reassurance.
"It's about people being told what they can be told and being told if it's going to have any lasting impact on them," he said.
The arrests came after police found suspicious items in a garage in Buttermere Close in the Up Hatherley area of the town.
About 100 houses were evacuated on Friday but residents were allowed to return to their homes following controlled explosions carried out by a bomb disposal team at the weekend.
Police have confirmed that the arrested men are both from Cheltenham and are related.
Officers have been given permission to detain them until 18 May.
The South East Counter Terrorism Unit, which has assumed responsibility for the investigation, will then have to decide whether to charge or release the pair, or apply for a warrant to hold them further.