New Cheltenham West fire station operational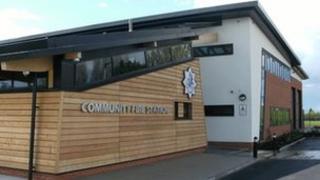 The first of Gloucestershire's new multi-million pound, state-of-the-art fire stations has opened its doors.
The Cheltenham West site, close to junction 10 of the M5, is one of four that will become operational this year.
It is being financed under a PFI scheme, a way of funding building projects using private money, involving £40m of government funding.
Chief fire officer Jon Hall said the station would "better serve the more rural areas".
'Better protection'
He added: "I am absolutely delighted that the first of the four new fire stations is now fully operational.
"The station is located to provide better protection for the communities in the western part of Cheltenham and gives our fire crews improved access to the M5 motorway."
The three other new stations are based at Gloucester North near Elmbridge Court, Cheltenham East on Keynsham Road, and Gloucester South by Cole Avenue.
A community life skills centre is also being built.
Gloucestershire Fire and Rescue Service (GFRS) said the cost to taxpayers will be £21.5m over 25 years, £3.8m more than demolishing and rebuilding the two old fire stations in Cheltenham and Gloucester.
In March it was announced that fire service communication systems at GFRS had been awarded a £1.8m government grant.
The government terminated plans for a national fire control centre in 2011.