Peta's anti-meat advert in Gloucester slammed by obesity forum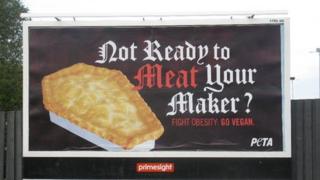 A billboard which links death with eating meat has been criticised by the National Obesity Forum (NOF).
The advert shows a coffin-shaped pie and asks the question 'Not ready to meat your maker?'. It also recommends veganism in the fight against obesity.
Campaign group Peta said it placed the advert in Gloucester because of a new mortuary in the city for obese bodies.
Tam Fry, from the NOF, said the advert was "laughable" and an attempt to make a point out of others' misfortune.
'Not appropriate'
Peta said that Gloucester had a new mortuary that could accommodate bodies weighing up to 50st (317kg).
Gloucestershire County Council said its mortuary - which was officially opened last week - was one of many in the country that could take bodies of this size.
Mr Fry said it was "ridiculous" that Gloucester had been targeted because the city was one of the less obese areas in the country.
"We want to do all we can to lessen obesity but I do not think it appropriate at all to draw attention to it in this manner," he added.
Yvonne Taylor, from Peta, said the billboard was designed to highlight a link between meat pies and pasties and obesity and other ailments.
"The best thing that coffin dodgers can do for their health and to help animals is to go vegan," she said.
Gloucestershire's new Coroner's Court, which includes mortuary and post-mortem examination facilities, was officially opened on 1 April.