River Wye searched after man jumps from A48 bridge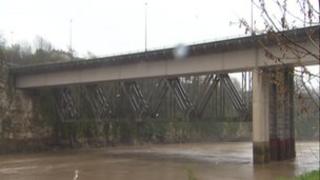 A search is taking place of the River Wye after a man jumped in close to the border of Gloucestershire and Monmouthshire.
Emergency services were called to the bridge on the A48, between Sedbury and Chepstow, in the early hours.
An extensive search of the area has been carried out but so far proved unsuccessful.
Police said the man was believed to have been out in Chepstow on Sunday evening before jumping into the river.
Insp Arman Matherson, of Gloucestershire Constabulary, said although no one had been reported missing it was being treated as a missing person inquiry.
He added: "If anyone saw anything either in Chepstow or perhaps later walking back to Sedbury it would be really helpful for them to call.
"Witnesses to the initial incident, which happened just before 01:00 BST, who have not yet spoken to officers should contact police on the non emergency number 101."