Lydney Town Hall plan 'could save it from closure'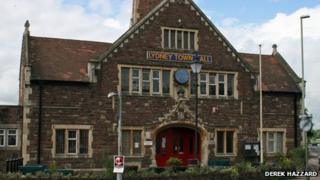 There are calls for the way Lydney Town Hall is managed to be changed in an attempt to save it.
The building in the Forest of Dean is under threat of closure because of increased running costs.
A plan has been announced for a management trust to be set up, made up of members of the hall's user groups and local residents.
Chair of the town council, Bill Osborne, said it would allow more fundraising to take place.
Lydney Town Council is currently both the building's custodial trustee and managing trustee.
Mr Osborne, said: "Instead of having all councillors as trustees we'll be able to have a trustee from each of the regular user groups, plus two or three citizens of the town.
"We hope in this way it will be cared for by the people that use it and not just councillors."
Mr Osborne said the council was limited by the amount of grant funding it can obtain.
"As a management trust they can go out and apply for funding which they wouldn't be able to get if it was looked upon as being a council property."
Mr Osborne said he hoped the new system could begin "by the beginning of June".
It would save the council about £20,000 a year in "three or four years' time", he said.