M5 Gloucester service station appeal rejected by court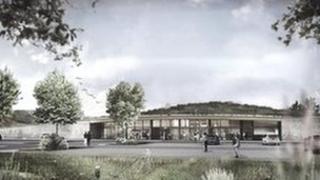 Campaigners have lost their latest appeal against a new £35m service station on the M5 in Gloucestershire.
The plans, which were approved in 2010, were the subject of a judicial review which was thrown out in February.
A further appeal was launched by the five claimants against the decision but the Court of Appeal has ruled it out.
Westmorland and Gloucestershire Gateway Trust is expected to begin work at Ongers Farm, between J11a and J12 at Brookthorpe, later this year.
'Sustainable development'
According to planners at Stroud District Council, the appeal was made over a legal clause regarding the sale of locally produced goods, and the judge had made a mistake in saying it was acceptable.
Philip Skill, head of planning, said the authority was "delighted" the Court of Appeal had refused to give leave to appeal over the issue.
"The council has a policy of promoting sustainable development, and the offer from Gloucestershire Gateway Limited to source a significant amount of their goods from the local economy is to be welcomed," he said.
The new service station is a joint venture between Westmorland and Gloucestershire Gateway Trust.
Welcome Break and Roadchef, which both operate service stations on the M5, objected to the plans claiming permission for the scheme was granted unlawfully.
They were joined in the campaign by Brookthorpe with Whaddon Parish Council, Harescombe Parish Council and the Campaign Against Motorway Service Area.
Stroud District Council said preparatory works had now begun on site.