MoD Ashchurch proposals questioned by Tewkesbury MP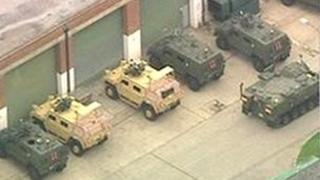 Plans to sell-off a Ministry of Defence (MoD) site in Gloucestershire have been called into question by an MP.
Laurence Robertson, Tewkesbury MP, has written to the government saying there are "many concerns" about proposals to redevelop the site at Ashchurch.
The depot, which could be turned into new homes, shops, a school and offices, is currently used to store and manage many of the MoD's operational vehicles.
Mr Robertson said the feeling generally was that any discussion was premature.
Planning application
He also wrote that council plans to develop parts of north Gloucestershire had not yet been decided on and there may be no need to use the MoD site for housing.
In the letter, addressed to defence minister Peter Luff, questions were asked about the estimated sale price, the condition of the site, the cost of moving the work elsewhere and what would happen to more than 600 people who work there.
Last month the MoD confirmed that an outline planning application was being drawn up for the 178-acre site.
It said: "The site is previously developed land and its redevelopment, should the site be disposed of, would provide an opportunity for the release of surplus public sector land, helping to deliver a key commitment of the government's Plan For Growth."
A public consultation on the plans, which is inviting responses viaan online survey, is being run by the MoD until 20 April.