Seven Gloucestershire libraries expected to lose council funding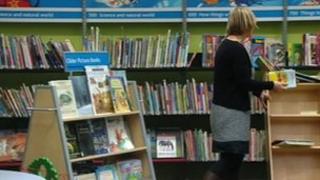 Seven libraries in Gloucestershire will still lose their council funding under proposals to save £1.8m.
In November a judicial review ruled Gloucestershire County Council's decision to cut funding for 10 libraries was unlawful.
The authority's new library strategy is suggesting 31 council-run libraries, with seven run by local communities.
The county council's cabinet is expected to agree to the proposals on Thursday.
The final recommendations were drawn up following a second public consultation.
The authority was taken to the High Court last year by campaigners who were opposed to funding cuts.
Campaigners earlier said they were concerned that some libraries could still close if volunteers do not come forward.
Peppercorn rent
The new proposals include plans to have nine main libraries open six days a week and 22 local libraries with various opening hours.
The council proposes to offer community-run libraries the chance to buy library buildings or take over leases on a peppercorn rent, and an annual grant of £10,000.
A mobile library service visiting 50 rural communities on a three-week rota is also proposed.
Mark Hawthorne, leader of the Conservative-run county council, said the authority would work "one-on-one" with the communities over six months.
He said: "Eighteen months ago, there wasn't a library in Painswick. Today there is and that's because of what we put on the table, it's because the community picked up the challenge.
"So we know it can work, it has worked and I'm sure if we work with these communities we can make it successful in every location."
Painswick's council-run library closed in 2009 after it was declared unfit for purpose.
The town is due to get a community-run library in the "early summer" after volunteers were granted funding by the county council.