Forest of Dean Wilderness Centre bid ready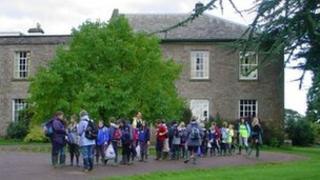 Campaigners wanting to save a disused environmental education centre in the Forest of Dean say they are in a position to make a bid to buy it.
Gloucestershire County Council closed the Wilderness Centre at Mitcheldean last August because of budget cuts.
Friends of the Wilderness said it has raised enough finance to persuade the council to sell it to them.
It will present a bid, which includes pledges of "hundreds of thousands of pounds", at Shire Hall later.
Spokesman for Friends of the Wilderness, Trevor Roach, said: "I'm optimistic we can come to an agreement that satisfies the county's needs to draw in funds to meet its budget challenge, but at the same time is at a price that we can afford and leaves us with a bit of capital to reinvest in refurbishing the basics of the centre."
'Peppercorn rent'
The county council had given the group "the sole option to place a bid" by the end of this month if it could raise sufficient funds.
Two local businessmen - John Thurston, chairman of Watts Group, and Brian Bennett, chairman of Vantage Point business village - are understood to have pledged "six-figure sums" to the campaign group.
A further £14,000 has been raised through donations from members of the public.
Mr Roach said if the bid is successful the centre would be owned by Mr Thurston and Mr Bennett and be leased for a "peppercorn rent" to a new company that would run it.
Educational work at the centre would be set up as a Community Interest Company (CIC), he said.
The site is currently occupied by members of another campaign group, Protect the Wilderness, who say they want to keep the centre open to the public.