Ashchurch military depot consultation takes place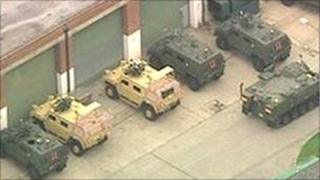 A public consultation into plans to sell off part of a military base in Gloucestershire is to take place.
The Ministry of Defence (MoD) depot at Ashchurch, near Tewkesbury, services military vehicles, some of which have been used in Libya and Afghanistan.
The Defence Infrastructure Organisation, which is responsible for MoD property, is preparing plans for the site's redevelopment.
A public meeting will take place in Northway later.
The proposed redevelopment includes plans for new homes, shops, a school, offices and open space.
Members of the public are being asked for their views on the plans at the consultation which is being held at Northway Parish Offices between 14:00 BST and 20:00 BST.