Gloucestershire library consultation ends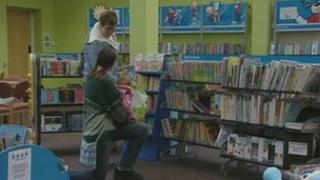 Nearly 4,000 people in Gloucestershire have had their say on county council plans to reduce library services.
A council spokesperson said more than 82% agreed with the proposals which include sharing buildings and introducing community-run centres.
The concept of using volunteers in libraries was also well supported.
In total, 13.3% opposed the plans altogether. The impact on older people and those living in rural areas was a concern to some respondents.
When asked about mobile library provision, 78% said they agreed with sharing the service with other public sector bodies.
Unlawful
The council has said it wants to cut spending on libraries by £1.8m.
The council said it is now considering all the feedback before a final decision is taken at a public meeting at Shire Hall on 5 April.
In November a judicial review ruled a county council decision to cut funding for 10 libraries was unlawful.
The new proposal includes plans to keep nine main libraries open six days a week, 12 local facilities open five days a week and others run as community ventures.
The full consultation report is on theGloucestershire County Councilwebsite.