Gloucester prison criticised again in annual report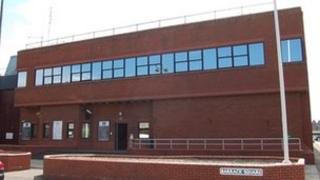 Gloucester Prison has been criticised in an annual report for the fourth year running.
The findings from the Independent Monitoring Board (IMB) said there were fundamental issues that needed addressing.
It highlights the poor standard of the jail's Victorian accommodation and a lack of privacy for prisoners. It blames a lack of adequate investment.
A Prison Service spokesperson said ministers were considering the report.
The annual report criticised the fact inmates who share cells have to eat close to in-cell toilets, and it said night time sanitation arrangements were poor.
Brian Drury, chairman of the IMB, said: "It's really not decent for prisoners in a communal cell to have to eat their meals in a communal setting separated from their toilet only by a curtain. That is a standard that is too low."
Targets not met
The report raised concerns about a lack of "adequate purposeful activity" for prisoners, and said a target of 20 hours of activity per prisoner per week was not met during 25 weeks of the previous year.
Concerns were also raised about "the difficulties experienced in placing prisoners with severe mental health issues in an appropriate secure environment".
Some of the prison's services were praised, however, including quality of food preparation and medical care.
A Prison Service spokesperson said: "The service aims to hold offenders in a decent and appropriate standard of accommodation that provides the level of security they require, and that is suitable to offenders' gender, age, legal status and individual needs.
"Prisoners with severe mental illness are transferred to receive the appropriate treatment in hospital.
"The Independent Monitoring Board's report into HMP Gloucester is being considered by ministers, and we will respond in due course."
HMP Gloucester is a Category B adult jail and young offender centre which houses some 323 prisoners.
Previous reports by the IMB dating back to 2009 were also critical.