Gloucestershire Warwickshire Railway 'open by August'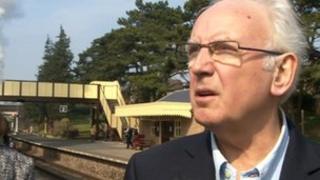 A heritage railway line that was damaged by a landslip hopes to fully reopen by the end of August, it has been announced.
The embankment just north of Winchcombe on the Gloucestershire Warwickshire Railway (GWR) suffered the landslip in January last year.
Work to repair the track between Winchcombe and Toddington stations is costing £670,000.
A spokesman from GWR said the work was progressing at a good rate.
On Friday, music producer and GWR president Pete Waterman marked the start of this year's GWR season.
He said the railway had lost money due to the landslip.
"We thought this year would be the year we started to employ people full-time and all that's gone back probably five years," Mr Waterman said.
"That's sad when you've worked hard to get something to work and right at the last minute, the prize gets stolen from you."