Badger vaccination officers 'at risk' in Gloucestershire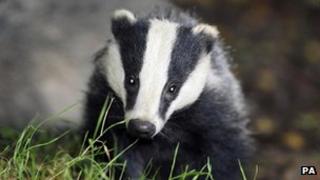 Wildlife trust bosses fear there could be safety implications of officers vaccinating badgers being mistaken for those taking part in a cull.
Dr Gordon McGlone said police had advised that Gloucestershire Wildlife Trust staff were "at risk" and should "take care" over badger vaccinations.
Officers vaccinating badgers have to trap them first, which he said could confuse people.
Dr McGlone said staff on the nature reserves would have safety training.
Gloucestershire Police said there was "currently no intelligence" to suggest any specific risk but it had advised trust employees to ensure that they were easily identifiable as Wildlife Trust vaccination staff.
Dr McGlone, who met with Defra and the National Farmers Union (NFU) on Thursday, said it was vital he knew which nature reserves were included in the cull so he could consider the safety of his staff.
In January the government announced that badger cull pilots, aimed at reducing bovine TB, were to take place in west Gloucestershire and west Somerset this summer.
The exact areas have not been revealed for security reasons.
Following the meeting, which included Somerset Wildlife Trust, Dr McGlone said Defra and the NFU refused to reveal cull boundaries but they will tell the trusts which nature reserves will be affected.
'Very sensible reasons'
"I do understand the problem that they have," he said.
"They are very concerned about the safety of farmers and landowners who are going to permit badger culling on their land, so they are actually bound by secrecy and don't want to reveal for very sensible reasons those locations.
"But it does make the work of organisations like the wildlife trusts very difficult because we don't just work on our own land, we work with farmers and landowners."
Last year the Gloucestershire Wildlife Trust said it wasdelighted with its badger vaccination project- the UK's first independent trial.
It said it proved that the technique was "viable and affordable", although the trial did not look for any impact on disease in badgers or cattle.