Stroud's Cotswold Canals link to be restored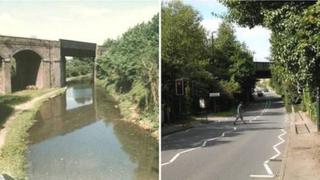 A missing link in the Cotswold Canals is to be completed following the award of a £2m contract to restore a 330m section of waterway.
The link at Dr Newton's Way in Stroud was used as a rubbish tip in the 1970s and then built over during the 1980s.
The new waterway will be built from concrete and the project will include the planting of 1,000 trees nearby.
Stroud District Council said the deal was a "major milestone" in bringing a working canal to the town.
The work is part of a project to restore much of the canal in the Stroud area and open up a route between Saul and Lechlade.
Councillor Keith Pearson said the deal was the "canal project's biggest contract so far".
"It takes restoration well beyond the old Stroudwater Navigation and into the Thames and Severn Canal," he added.
Peter Evans, from Alun Griffith Construction, which won the £2m deal, said he wanted to "do justice" to the men who originally built the canal in the 1770s.
Six new canal lock gates were installed in nearby Stonehouse last year.
The 2.25 tonne oak gates were the first new ones installed there for more than 100 years.