London 2012: Eddie the Eagle Edwards in Olympic torch relay 'snub'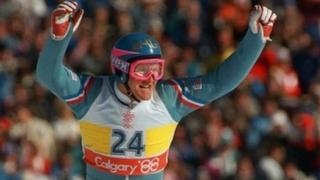 One of Britain's most famous Olympians, "Eddie the Eagle" Edwards, says he was turned down as a torchbearer for London 2012.
The ex-ski jumper, who lives in Stroud, Gloucestershire, became world famous when he finished a distant last at the Calgary Winter Olympics in 1988.
He was nominated by Roy Townsend from England and Wales Blind Golf, but not picked by the Games organiser, Locog.
Locog said torchbearers were chosen by regional selection panels.
Eddie, whose real name is Michael Edwards, said it was "a shame" he had not been selected.
"The Canadian Olympic authority invited me to Winnipeg in 2010 to be a torchbearer for the Vancouver Winter Olympics and that was wonderful, I loved taking part.
'Row with Seb Coe'
"I thought I might be able to do the same for London, but apparently not.
"I'm slightly surprised because 24 years after the [Calgary] Olympics Games people still remember me fondly for being Britain's first ski jumper, but apparently that wasn't enough.
"I just shrugged my shoulders and said 'oh well' because there are lots of other deserving people out there who want to carry the torch.
"Over the years I've had lots of rows with [London 2012 chairman] Seb Coe because he wants to get rid of the wild card system [which allows smaller, unsuccessful countries to send athletes to compete even if they are well below the standard required to qualify], saying the Olympics should only be for the very top athletes in the world.
"I think that might have something to do with it."
Locog said it was not able to comment on individual cases, but eligible nominations had been put forward to regional selection panels.
It said in a statement: "The selection panels were made up of individuals who best represent the local communities and were therefore well placed to judge which nominations for Locog's torchbearers deserved their moment to shine.
"The panel included individuals from a broad range of sectors such as education, youth, voluntary, sport and culture."
Mr Townsend, from Minchinhampton, said he was "disappointed" Mr Edwards had not been chosen.
"Him being refused never crossed my mind. He's known the world over."