Memorial service held for Cheltenham explorer Edward Wilson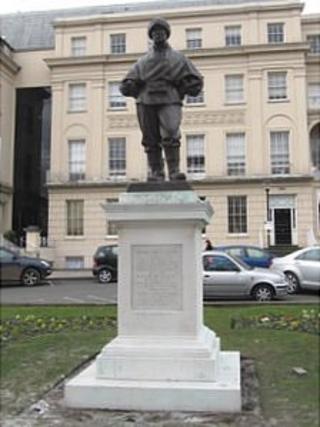 Relatives of five explorers who died on Captain Scott's Antarctic expedition 100 years ago, have attended a memorial service at a Gloucestershire college.
Dr Edward Wilson, a former pupil at Cheltenham College, was part of Captain Robert Scott's team which trekked to the South Pole in January 1912.
All five members died on their return to base camp.
Dominic Faulkner, from the college, said "it seems appropriate that we should mark him".
Earlier, Mr Faulkner said the Wilson Memorial Service would be similar to the one held almost a century ago to mark the death of Dr Wilson and his colleagues.
"We noticed some time ago in the archives that there was a memorial service here in 1913, a year after they died, and relatives of all the men that died came to that memorial service," he said.
"So there will be relatives of all five explorers in the service and we'll certainly sing one hymn which was sung at the remembrance service in 1913.
"And Cheltenham Museum has kindly lent his skis - which will be up on the alter - so lots of connections with the past and the original service."
A statue of the explorer, on Cheltenham Promenade, is also due to be re-dedicated and three information plaques formally unveiled.
It is hoped the project will improve knowledge and understanding of Wilson's life and work for local residents and visitors to the town.
Members of Dr Wilson's family were part of a working party for the project which included the town's Civic Society, Borough Council, Museum and Art Gallery and Cheltenham College.