Walkways open above mosaics at Chedworth Roman Villa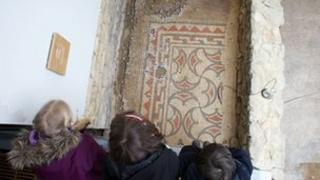 Suspended walkways overlooking 4th Century mosaics at a Roman Villa at Chedworth in Gloucestershire have been opened to visitors.
It is part of a £3m project which has seen Victorian buildings replaced, a new cafe built and a refurbished visitor centre opened at the villa.
A National Trust spokesman said the new walkways give "much better access".
Excavation work is also currently under way at the villa to uncover previously hidden mosaics.
One mosaic, which is currently being uncovered, is considered to be one of the longest in-situ corridor mosaics in the country at 35m (115ft) long.
Visitors to the villa will be able to see archaeologists at work from the new walkways.
Property manager Janet Gough said: "Our archaeologists have known these extra mosaics lay hidden here at Chedworth since the Victorians reburied them but they were not as well protected underground as they could be in this new building, protected from frost and other damage."
National Trust archaeologist Martin Papworth said: "The walkways will provide ideal platforms for people to watch us this summer and see if we do find something exciting.
"Once excavated we are simply cleaning the mosaics and stabilising them with other conservation work to follow to ensure they remain in the condition they were found when revealed."