London 2012: Torch route through Gloucestershire revealed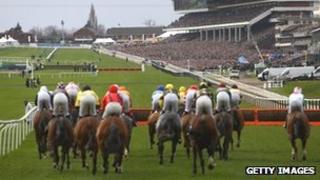 The Olympic torch will be paraded around Cheltenham Racecourse en route to the opening ceremony of London 2012.
Its first stop in Gloucestershire on 23 May will be in Cirencester.
It will then visit Stroud, Painswick, Brockworth and Shurdington. Once in Cheltenham, it will be taken along the town's Promenade area.
On arrival at the racecourse, the procession will take the torch to the parade ring and the finish post, ahead of an evening celebration.
After an overnight stop, the procession will then head to Gloucester on 24 May, where it will be taken to the docks and the cathedral before heading to Maisemore, Hartpury and Corse and Staunton.
The torch will arrive back in the county briefly on 1 July when it visits Chipping Campden, home of Robert Dover's annual Cotswold Olimpicks, which date back to 1612 and are considered by historians to be a forerunner to the modern Olympic movement.
The journey through the Gloucestershire area is part of a 70-day tour across the UK before the torch arrives at London's Olympic Stadium for the opening ceremony on 27 July when the last relay runner will transfer the flame from their torch to the Olympic cauldron.
It will then continue to burn until it is extinguished on the final day of the Games.
Thousands of torchbearers have been recruited for the flame's journey before the opening ceremony.
'Superb role model'
A firefighter from Cheltenham has been chosen to carry the torch on behalf of Gloucestershire County Council.
Suzanne Enghed, who works at Cheltenham Fire Station, was nominated by Gloucestershire Fire and Rescue Service's chief fire officer Jon Hall and was chosen by a panel of judges made up of county councillors.
Mr Hall said: "Suzanne is a superb role model for so many people.
"She is remarkably fit and incredibly disciplined in her approach to work and sport.
"I am delighted to see the torch being carried by someone we can all feel thoroughly proud of.
"She is a credit to herself, the county and Gloucestershire's Fire and Rescue Service."
Ms Enghed was nominated for her outstanding performance at the World Firefighter Games and the World's Ultimate Firefighter during 2011.
In 2010, she became the World's Toughest Firefighter at a competition in Korea.