Ashchurch military depot sell-off plan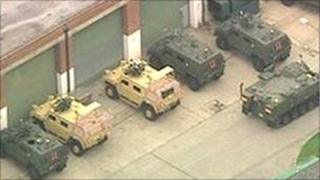 The government is considering selling off a large part of a military base in Gloucestershire.
The Ministry of Defence (MoD) depot at Ashchurch, near Tewkesbury, services military vehicles, some of which have been used in Libya and Afghanistan.
In June, Tewkesbury Borough Council said the land had been included in future housing blueprints.
A letter from the MoD has confirmed that an outline planning application is being drawn up for the site.
The letter stated: "The site is previously developed land and its redevelopment, should the site be disposed of, would provide an opportunity for the release of surplus public sector land, helping to deliver a key commitment of the government's Plan For Growth."
'Significant blow'
It adds: "Within the above context, the MoD has been holding discussions with officers at Tewkesbury Borough Council on a plan to develop Ashchurch for alternative uses.
"This would see a residential-led, mixed use development on the site should it be disposed of."
Currently about 625 civilians and 29 military staff work at the depot but the MoD has admitted the site is "end of life and in need of renewal".
The MoD has been reviewing the depot because of the age and condition of the storage facilities and research so far has supported the idea of releasing a "significant element" of the site.
David Bloxham from Tewkesbury Chamber of Commerce, said: "Clearly it would be a significant blow and it would have quite a big impact if the whole site were close and those jobs would be lost.
"I can't see how those jobs would easily be replaced with that nature of work in an easy way."
A public consultation about the housing proposals is due to be held at the end of March.