Volunteer archaeologists start dig at Greyfriars in Gloucester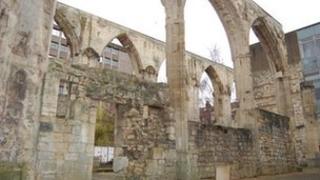 A team of amateur archaeologists have begun digging at Greyfriars Priory in Gloucester.
The excavation is believed to be the first in Gloucestershire to use volunteer diggers, under the supervision of Cotswold Archaeology.
The eight members of the public who are taking part are from the local area.
Archaeologists say they hope to find remains of the cloisters of the building, which dates back to the 16th Century.
The dig is taking place as part of a regeneration of the former Gloscat College site which is next to Greyfriars.
Archaeologist Laurie Coleman said: "The archaeology on the site is not well understood. It's an exciting opportunity for us.
"We're hoping to find the cloisters or ancillary buildings associated with the site."
The team of volunteers, ranging from complete novices to keen amateurs, will be supervised by four professional archaeologists.
The dig was arranged with the Gloucester City Centre Community Partnership.
Project director Rob Winstone said: "While there will be experts on hand to guide and instruct, I wanted to let the residents of Gloucester take the lead in this exciting community project."