Paddy Power transgender TV ad suspended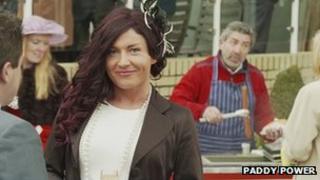 A TV advert which invited viewers to guess the gender of ladies at Cheltenham Festival has been suspended.
Clearcast, which pre-approved the Paddy Power advert, said it had appeared to cause offence so the decision was taken with broadcasters to no longer run it.
Some 470 complaints were received by the Advertising Standards Authority (ASA) which is investigating.
Bookmaker Paddy Power said it was "surprised and disappointed" with Clearcast's decision.
'Frustrating'
In the advert, transgendered people are shown at Cheltenham Festival and viewers invited to "spot the stallions from the mares".
Clearcast said it regretted any offence that may have been caused.
A statement from Paddy Power said: "This decision is especially frustrating given that the commercial was already pre-approved by Clearcast, who then considered the humour in the advert, while not to everyone's taste, fell short of causing offence."
It added that UK transgender group, The Beaumont Society, had given feedback on the script for the advert and stated there was "nothing untoward with the advert concept".
The ASA said the general nature of the complaints was that the ad was "offensive, transphobic and derogatory towards transgender people".
Earlier, Jennie Kermode from charity Trans Media Watch, said the advert was "an attempt to offend in an effort to generate publicity".