Cheltenham statue of Edward Wilson restored to former glory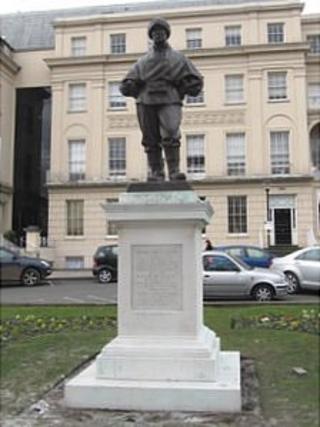 A statue of Cheltenham-born explorer Edward Wilson has been cleaned and restored to its former glory.
Conservation work on the bronze statue, and its plinth and plaque, has been carried out for the 100th anniversary of the ill-fated Antarctic expedition.
Dr Wilson was in Captain Robert Scott's team which trekked to the South Pole in January 1912. All five members died on their return to base camp.
The statue on Cheltenham Promenade will be rededicated on 18 March.
It is hoped that the enhancement work will improve knowledge and understanding of Wilson's life and work for local residents and visitors to the town.
Members of Dr Wilson's family were part of a working party for the project which included the town's Civic Society, Borough Council, Museum and Art Gallery and Cheltenham College.
Ann-Rachael Harwood, curator in human history at Cheltenham Art Gallery and Museum, said: "We now have a beautifully clean and shiny looking statue once more, which I think is a fitting tribute in the centenary year.
"It was looking extremely green and encrusted with grime and I think a fair number of our local pigeons and seagulls might have been sat on it at some stage."