Fire at Gloucester warehouse prompts homes evacuation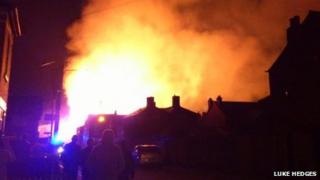 Thirty homes were evacuated as firefighters tackled a blaze overnight at a derelict warehouse in Gloucester.
The fire at the Old Norville Works, on Hatherley Road in Tredworth, is now under control but police have confirmed they are treating it as suspicious.
About 100 residents from 30 properties were asked to leave and accommodated at the nearby GL1 leisure centre.
The emergency services received 75 calls from people reporting the fire.
Five fire engines and one aerial ladder platform were sent to the blaze shortly before midnight on Tuesday.
'Structurally unsafe'
All residents returned to their properties, or made alternative arrangements, once the fire was brought under control.
Tally Giampa, from Gloucestershire Fire and Rescue Service, said: "This was a well developed fire on an industrial site surrounded by residential properties.
"Crews moved swiftly to surround the fire and suppress the threat from flying embers, always mindful that the shell of the building was structurally unsafe".
A local authority structural surveyor has visited the scene to establish the safety of the warehouse.
Melbourne Street East, Matson Place and Tarrington Road, at the junction with Hatherley Road, were expected to remain closed for most of the day while a factory wall is made safe.