Paddy Power transgendered TV advert investigated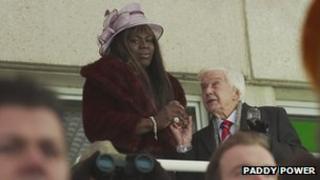 A TV advert which jokes about spotting "transgendered ladies" at Cheltenham Festival is being investigated.
In the advert, bookmaker Paddy Power invites viewers to "spot the stallions from the mares" at Ladies' Day.
The Advertising Standards Authority (ASA) received almost 500 complaints the ad was "offensive, transphobic and derogatory towards transgender people".
A spokesman for Paddy Power said it was "simply a bit of mild-mannered fun" in the run up to the festival in March.
'Excitement'
According to the bookmaker, the advert had been produced in response to comments received about beautiful women attending Cheltenham's Ladies' Day.
"It proceeds to show Paddy Power upping the ante by sending transgender ladies into Ladies' Day, adding to the excitement of the day," the spokesman said.
The ASA said some 470 complaints had been received, a "significant volume", and it had launched a formal investigation in response.
The bookmaker said the television campaign had generated plenty of public response which had been "healthily mixed".
It added several members of the UK transgender community had been cast in the ad which had been cleared by Clearcast, which vets adverts before airing.
'Slightly masculine'
In a statement on its website, Clearcast said: "Ads cannot be approved if they are felt likely to cause widespread general offence.
"In this case Clearcast took the view that the humour, while not to everyone's taste, fell short of causing such offence.
"In reaching this view Clearcast took into account the fact that the advertiser had sought a view from the Beaumont Society (a body run by and for those who cross dress or are transsexual) which did not find the script idea offensive.
"We regret any offence that may have been caused by this ad."
Jennie Kermode, chair of charity Trans Media Watch, said: "This is clearly an attempt to offend in an effort to generate publicity, but at the same time it's a real problem.
"We feel it could put trans women and other women at risk because any woman who looks slightly masculine might be threatened as a result of this advert."