Martin Surl to stand as Gloucestershire commissioner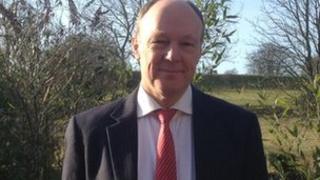 A former superintendent with Gloucestershire Police is standing to become the county's first police commissioner.
Martin Surl has put himself forward to be nominated as an independent candidate for the £65,000-a-year post.
Elections on 15 November will create commissioners in 41 areas of England and Wales, replacing police authorities.
Mr Surl, 54, retired from the police in January after 32 years service.
He said: "I'm passionate about Gloucestershire. It's important that this role is carried out by somebody that understands the county and who understands policing.
"Part of the role is to represent the people, to hold the police to account, to make sure they're delivering the kind of services we want."
One of his former roles was as operational commander for the Cheltenham and Tewkesbury division of Gloucestershire Police.
In 2007, he moved away from the county to work on counter terrorism nationally, and he has also advised Baltic states on policing practices.
He is the first person to announce an intention to stand for election in the county.
Duties of the Police and Crime commissioner (PCC) will include setting priorities for the force, overseeing its budget and hiring the chief constable.
Other figures to have put themselves forward as commissioners across the country include Falklands War veteran Simon Weston and former deputy prime minister Lord Prescott.