Gloucestershire Police uses angling to tackle anti-social behaviour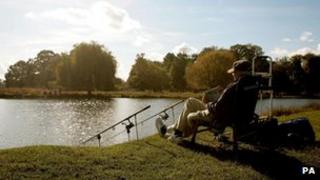 Police in Gloucestershire are using angling to tackle anti-social behaviour after concerns from residents.
The Angling for Youth Development (AFYD) scheme will see children being taught the sport by local mentors.
Already seven people have volunteered for the mentor training, while several helpers have also come forward.
AFYD, a charity which started in Scotland, has provided funding and equipment for the project in Quedgeley and Hardwicke.
Mentors will gain a qualification from the project.
'Something to do'
"The idea of the scheme is that community members will be taught to become fishing coaches and will then work with young people in a bid to pass on their angling knowledge and experience while educating them about environmental issues," said scheme coordinator Pc Lucy Kay.
"When I am out on patrol and talking to young people in the area they are always looking for something to do.
"Taking advantage of the fantastic natural environment that surrounds us seemed to make total sense.
"I know that residents have concerns with regards to anti-social behaviour and we are hoping that by giving young people another positive choice we will be able to reduce those concerns."