Gloucestershire council 'on track' with £114m cuts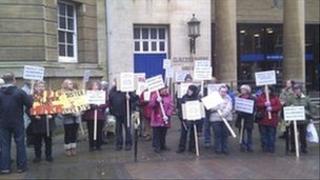 Gloucestershire County Council is "on track" with plans it agreed a year ago to save £114m over four years.
The programme of cuts - including the planned closure of libraries, day care and youth centres and 1,000 council jobs - was signed off in February 2011.
Some £30m has been saved so far and more people than anticipated - equivalent to 800 full-time jobs - have opted to take voluntary redundancy.
Chief executive Pete Bungard said the year had been "full of surprises".
"It has been a really tough year but we have actually stayed on track," he said.
"I think we have done it through flexibility, listening a lot, not believing we knew everything at the start and we were prepared to find different ways."
Morale 'quite good'
Gavin Brooks, from Unison, said the union was being contacted by staff about high stress levels in the region on an almost daily basis.
"Stress not only in terms of the amount of time that they are having to spend now doing the work, but also the impact that is having on the services that they deliver," he added.
Pay freezes, changes to employees' terms and conditions and service reviews were all to blame for an increase in pressure, according to Unison.
Mr Bungard said that morale within the authority was "quite good" and fewer staff meant that they were having to think differently to do the job differently.
The Conservative-led council is also undertaking a consultation after losing a legal challenge in November against its proposals to cut funding to 10 libraries.
In other areas, 10 youth centres have been handed over to community groups and six are being run by the council as "drop-in hubs".
Four day care centres have closed but the future is still unclear for the Dursley Training Unit after campaigners fought against its closure.
The council has also sold-off £13m of farmland and assets, with £40m the target, and has cut £2m from bus subsidies.
Mr Bungard said: "Every time we have stopped doing something we have tried to find a way of getting the community to step in."
Gloucestershire's Liberal Democrat leader, Councillor Jeremy Hilton, said he understood the savings were unavoidable.
However, he said the level of cuts to some of the hardest hit services - such as Trading Standards and libraries - were unwarranted.
"At the end of this financial year the council has a projected £106m in reserves, which is a substantial amount of money that could be better used at this point in time," he said.