Forest of Dean Wilderness Centre appeal launched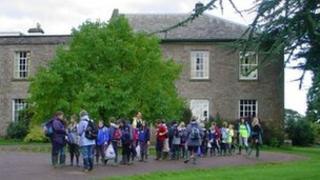 Campaigners wanting to save a disused environmental education centre in the Forest of Dean have begun a fundraising appeal to buy it from the council.
Gloucestershire County Council closed the Wilderness Centre at Mitcheldean last August because of budget cuts.
Friends of the Wilderness say they need to raise £1m in pledges by the end of March in order to buy it.
A council spokesman said the site was not yet for sale and it was "in continuing talks" about its future.
Spokesman for Friends of the Wilderness, Trevor Roach, said the council had given them "the sole option to place a bid" by the end of next month.
"A figure of £1m would cover the cost of buying the building and pay for a bridging sum for refurbishments and its early operation before enough income comes in," he said.
'Nature in the raw'
Andrew McCartney, from the county council, said: "We're continuing talks with the Friends of the Wilderness Centre group over the future of this site.
"We know they are keen to take over the centre and we are awaiting their business plan, which we will consider carefully before making any decisions."
Friends of the Wilderness wants to refurbish the centre and run courses and residential programmes for children and community groups.
Mr Roach said it should be saved "because young people are losing track of the natural world".
"Children are spending more and more time indoors. They need to experience nature in the raw. Strong links with nature is a guiding force with everybody's life."
The site is currently occupied by about 13 people from another campaign group, Protect the Wilderness, who say they want to keep the centre open to the public.
Spokesman Thom Forester said if Friends of the Wilderness had not raised £1m by the end of March "we'll do everything we can to make sure it stays open as an education centre".