NHS Gloucestershire settles legal battle out of court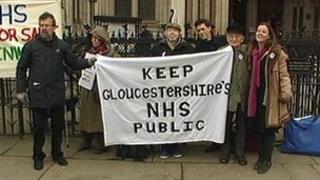 A legal battle over NHS plans to change the way Gloucestershire health services are run has been settled out of court.
NHS Gloucestershire has agreed terms to settle the judicial review brought by Michael Lloyd, 76, from Stroud.
Mr Lloyd argued the NHS had acted unlawfully in planning to hand management of county hospitals and some services to a new body.
In a joint statement, both parties said that an end to legal proceedings was in everyone's interest.
'New process'
NHS Gloucestershire and Mr Lloyd said: "The Primary Care Trust (PCT) has agreed not to implement its decision to enter into a contract with Gloucestershire Care Services at this time.
"The PCT has agreed that it will start a new process to explore the best option for providing community services in Gloucestershire."
Members of the public and NHS staff will be invited to engage with future plans seeking expressions of interest for the provision of NHS services in the county.
A new body - the Gloucestershire Care Services Community Interest Company - was due to begin managing some health services last October.
Those plans were postponed after Mr Lloyd started legal proceedings.