Viking axe find in Slimbridge discounted by archaeologists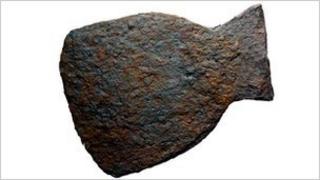 An axe head found in a garden in Gloucestershire, which was claimed to be of Viking origin, is an 18th Century woodworking tool, experts have said.
It was found in 2008 by Ian Hunter Darling under a hedge at his home in Slimbridge.
Slimbridge Local History Society who said last week it was Viking have now renamed it the "Slimbridge axe head".
A meeting about the find is taking place in Slimbridge on 21 February.
David Mullin, from Stroud Museum, where the axe head has been on display for the last six months, said: "The axe was deposited with the museum, its Viking origin having been suggested by others.
'Difficult to date'
"It will continue to be on display at the museum and we plan to take it to the Slimbridge Local History meeting on 21 February."
Archaeologist Kurt Adams, from Bristol Museum and Art Gallery, said he went to see the find at Stroud Museum on Thursday.
He said: "It's definitely an 18th or 19th Century woodworking tool - a heavy duty woodworking axe.
"Axes can be quite difficult to date because the form fits the function - but having said that Viking and battle axes are quite distinct.
"A single artefact doesn't show evidence for a battle, as it could have been an object which was traded or lost."
Peter Ballard, from the Slimbridge Local History Society, said: "We've decided to call it the 'Slimbridge axe head' because we don't know whether it's Viking or 18th Century."
Professor Mark Horton, from the University of Bristol, said: "The find has aroused a great deal of interest and incredulity with the archaeological community on the internet - on the Britarch discussion board.
"There is no way that this is a Viking axe head - they look completely different. As to the claim that there was a major battle at Minchinhampton in the 10th Century - these I'm afraid are the product of an over fertile antiquarian imagination.
"There was certainly Viking activity on the River Severn during this period but this is a case of two plus two equalling five."