Upgrade call made for busy A417 near Gloucester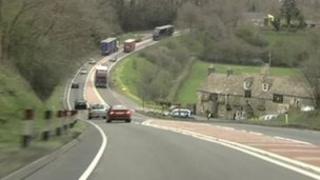 Two Conservative MPs have appealed for a section of "bottleneck" road between Gloucester and Swindon to be upgraded.
The A417 dual carriageway drops to single carriageway for four miles between Cowley and the bottom of Crickley Hill.
Cotswold MP Geoffrey Clifton-Brown and Tewkesbury MP Laurence Robertson have written to roads minister Mike Penning.
The Highways Agency said there were no plans to upgrade the route.
The Department for Transport said it was "committed to continuing to evaluate stress points on the network" but would not rely on "expensive new projects" to make the road network better.
In the joint letter, the MPs said the single carriageway section of the A417 was "one of the worst pinch points on the national road network".
In 2008, Gloucestershire County Council wrote to the government asking for the route - which runs through an area of outstanding natural beauty - to be prioritised.
At the time, the Highways Agency estimated upgrading the section of road would cost £250m and no improvements were made.
"Traffic accidents, including fatalities, happen with alarming regularity," the MPs said.
They added queues leading to the single-carriageway section often extended up to six miles back to Duntisbourne Abbots.
"We are finding it difficult to explain why the 'missing link' seems to have been overlooked during our government's reconsideration of major transport schemes," they added.