Giant boilers from Berkeley Power Station to be recycled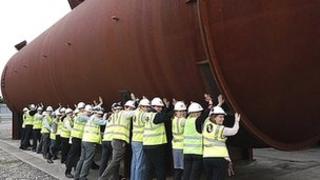 Giant steel boilers at a former nuclear power station in Gloucestershire are to be shipped to Sweden for recycling.
Five 22m (72 ft) long boilers, each weighing more than 300 tonnes, are to be taken from the Magnox Berkeley power station next month.
Swedish-based Studsvik was awarded the £8m contract to recycle the boilers.
A Magnox spokesman said it was a major milestone in the decommissioning of Berkeley, which ceased electricity production in 1989.
Built in the late 1950s, the Magnox Berkeley site is the first commercial nuclear power station in the UK to be decommissioned.
Fifteen boilers or heat exchangers remain on site but the removal of five completes an "important part of final site clearance early", a Magnox spokesman said.
Simon Bedford, from Magnox, said: "It's been described as the ultimate recycling project.
"Originally there were 16 boilers but in the 90s we trialled a size reduction and decontamination on site but it was quite expensive.
"Studsvik has purpose-built facilities for this sort of thing."
ALE, a specialist transport company, has been contracted to transport the boilers by road and sea to Studsvik's processing facility near Nyköping in Sweden.
According to ALE, each giant boiler will be placed on platform trailers and escorted by road through the town of Berkeley to Sharpness docks.
The four-mile road trip is expected to take several hours.
Nigel Kitt, from ALE, said: "We'll be travelling at about 4mph so for the first shipment we've allowed about 4 to 5 hours to travel from site to Sharpness.
"Some street furniture will need to be removed right in the centre of Berkeley and some overhanging branches will need to be pruned."
A single boiler will be transported in the first shipment with the remaining four transported in pairs.