16th Century book stolen from Buckland church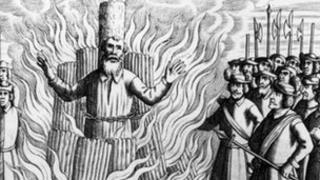 Thieves have stolen a historically important 16th Century book from a Gloucestershire church.
The Foxe's Book of Martyrs was taken between 20 and 27 January from a glass cabinet in St Michael's Church, Buckland, police said.
"We're very sad that someone's done this," said team rector the Reverend Peter Partington.
The hardback is a copy of John Foxe's celebrated work of church history and martyrology, Foxe's Acts and Monuments.
Versions of Foxe's work are known as Foxe's Book of Martyrs.
It was first published in English in 1563 by the Protestant printer, John Day.
The value of the book is not known.
"We remain committed to keeping country churches open as much as possible during the week," added Mr Partington.
"We are not intimidated into closing the churches. We have a range of security measures in place and don't often have valuable items present.
"We rely on people's goodwill."