Gloucestershire library consultation begins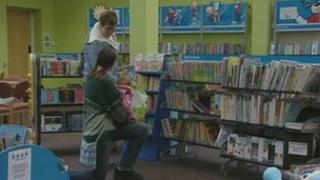 A consultation on the future of Gloucestershire's libraries has begun.
In November a judicial review ruled a county council decision to cut funding for 10 libraries was unlawful, as it had not complied with equity laws.
New proposals include plans to keep main libraries open six days a week, some will open five days a week and others will be community-run ventures.
The consultation will last until 11 March. The council needs to cut spending on libraries by £1.8m.
It proposes to end funding for seven libraries but continue to staff and run Matson and Tuffley libraries in Gloucester and Hesters Way in Cheltenham.
The draft strategy involves a "network" of nine main libraries being open six days a week, and 12 local libraries open five days a week.
It would also feature 10 partnership libraries run by the county in partnership with communities, and seven Community Offer Libraries.
As part of the consultation residents are being asked what should be done with mobile libraries and what level of support is needed for community-run libraries.