Whitecliff furnace works completed in the Forest of Dean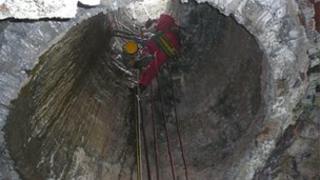 A major £165,000 project to conserve an "at risk" historic blast furnace in the Forest of Dean has been completed.
Work began last year to save the Whitecliff furnace, which dates back to 1795 and is the only coke-fuelled blast furnace left in the forest.
The stonework has now been pointed and steel pins been used in the flue to keep the structure safe from collapse.
Last year English Heritage placed the furnace on a register of scheduled monuments at risk.
The furnace's refurbishment was funded by the Heritage Lottery Fund and Forest of Dean Local Action.
It was undertaken as part of Overlooking the Wye, a £2.8m lottery project in the Wye Valley to undertake conservation works to historic sites.
The furnace is said to have played a major part in the development of the UK's iron and steel industry.
Whitecliff Ironworks attracted the metallurgist David Mushet to settle in Coleford to experiment with the processes of producing iron and steel.
In 1810 he took up full-time management of the ironworks but it was thought that the furnace never really performed to expectation.
Mushet's company later went bankrupt and the furnace preserved in its current form.