Gloucestershire police cuts put force 'on cliff edge'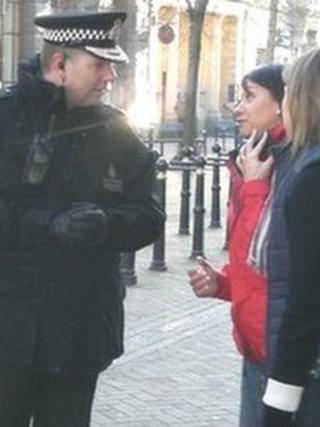 A police chief has said further cuts to his force's budget would take it to "a metaphorical cliff edge".
The mooted £1.3m in cuts for Gloucestershire police would be on top of £18m of savings already agreed.
The Superintendents' Association, Unison and the Police Federation have all sent letters of condemnation to the local Police Authority.
Chief Constable Tony Melville said the strength of feeling had made him feel "compelled to respond".
He said he spent his first day in charge on the streets asking what people wanted from local policing.
He said: "I was determined - despite all the cuts - that we would keep good front line visible policing in the neighbourhoods.
"The tipping point has arisen because I see the very thing the public values... being put at risk because of these decisions.
"This is a combination of early cuts... it's about the national cuts... and then it's about some additional local cuts. You put all of those things together and that's what makes the £1.3m becomes so important.
"When you've closed the police stations, sold your vehicles, the senior managers have gone, a third of your police staff have gone, what else is to go other than your front line policing?"
'Significant pressures'
Mr Melville said the strength of feeling in the county had made him feel "compelled to respond", adding: "Here in Gloucestershire we are potentially in the middle of a perfect storm."
He said: "The letters sent this week are written by bodies which represent every part of the constabulary - both officers and staff and spanning across all ranks.
"They air genuine concerns which I share and also worry could become a reality for this county."
Det Ch Supt Gavin Thomas, chairman of the Gloucestershire branch of the Superintendents' Association, said in his letter the accountability held by the Police Authority was there "to ensure there is an efficient and effective policing service delivered to the people of Gloucestershire".
He said if the authority went ahead with its plans for further cuts of £1.3m it would "significantly increase the already significant budgetary pressures on the Constabulary, that is already making 'real' funding cuts of over £18m".
In his letter, chairman of the Gloucestershire branch of the Police Federation, Ian Anderson, said: "The county has already seen the closure of 19 police stations and a reduction of nearly 200 police officers."
He said the additional £1.3m would "potentially result in further closures and reductions in police officer numbers".
'Deep concerns'
Rob Garnham, chairman of Gloucestershire Police Authority, said it faced the challenge of increasing its share of council tax by 2.9% for the next three years, or accepting a government offer of £1.3m this year in return for freezing council tax.
"However, that cash sum this year will not be built in to the base budget for future years and if accepted we would need to set the constabulary the challenge of finding an additional annual saving of £1.3m," he said.
"The authority is fully supportive of the constabulary as it reorganises to meet the financial challenges it has been set - they are making outstanding efforts to cope with these challenges and we know how hard this has been.
"We understand the uncertainty that many in policing are feeling and their deep concerns."
A decision on the force's budget is due to be made at a public meeting in Cheltenham on 9 February.