Kebab row policeman Andrew Evans sentenced for assault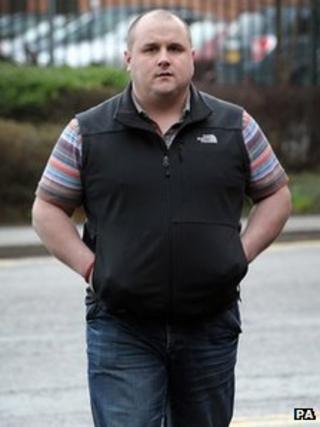 An ex-policeman from Gloucestershire who assaulted two takeaway staff in a row over the lack of salad in his kebab has been spared a prison sentence.
PC Andrew Evans, 32, had drunk up to 12 pints of cider and lost his temper after being told by staff there was no salad to put on his late-night snack.
At the time, Evans, of St Swithins Road, Lydney, was suspended from duty.
He was handed a two-month jail term, suspended for 12 months, at Swindon Crown Court and was put under curfew.
The row happened on 24 July at about midnight at a kebab shop in Cinderford in the Forest of Dean.
During the trial, Kerry Barker, prosecuting, said: "It was a kebab without salad, a fact he complained about. He complained aggressively and abusively."
He was offered a can of soft drink by way of compensation but went on to assault the shop manager, by punching him to the ground, aggression which the prosecution said was "unprovoked".
Climbing through window
The court heard at the time of the incident, Evans was on bail for a domestic-related incident with his estranged wife which happened on 12 June 2011.
She had escaped from their home by climbing through a window and had sought help from a neighbour.
Evans went to that house and was seen to kick the front door several times.
In November, he admitted a charge of threatening or using violence to enter a property.
Since the kebab row, Evans has resigned from his job, after serving with Gloucestershire Police for eight years.
Chris Smyth, defending, said: "He wants to put this behind him before he embarks on looking for work.
"He has substantial debts due to the breakdown of his marriage and the fact his marital home is being repossessed."
When handing down the sentence, Judge Douglas Field said: "I form the view that it crosses the custody threshold but in the view of all the circumstances I can suspend the sentence.
"It is clear he was drinking heavily during this period of his life. His marriage had broken down."