Louise Mensch MP threat accused case adjourned again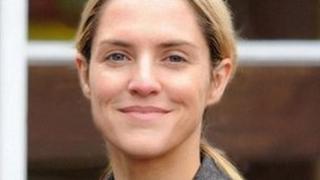 A man accused of threatening a Conservative MP via Twitter and email has failed to appear in court for a second time.
Frank Zimmerman, 60, of Spinney Road, Barnwood, Gloucester, is accused of targeting Louise Mensch.
He was due to appear before Gloucester magistrates earlier, after failing to appear at a hearing on 12 December.
The court heard he suffered from agoraphobia. District Judge Martin Brown adjourned the case to 6 February.
Ms Mensch, who was elected as MP for Corby and East Northamptonshire last year, also writes novels under her maiden name Louise Bagshawe.
Zimmerman has been charged with improper use of public communications network and is due to appear before magistrates in Cheltenham at the next hearing.