Gloucestershire M5 service station plans split opinion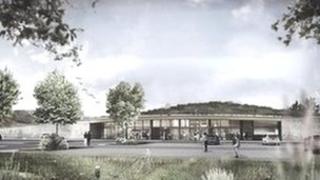 Is another motorway service station needed on the M5 in Gloucestershire?
That question is being scrutinised as a High Court judge in Birmingham spends a day-and-a-half listening to the reasons for it and the reasons against.
In 2010 a new service area between junctions 11a and 12 was approved by planners and that decision is now the subject of a judicial review.
A judge will decide on Wednesday whether the plans for the proposed Brookthorpe site are lawful.
But what do local authorities, residents and other groups think about the plans?
FOR
On one side stands planning authority Stroud District Council, motorway service station owner Westmorland Ltd and its new partner, Gloucestershire Gateway Trust.
The project is expected to cost £35m and Westmorland, which owns Tebay services in the Lake District, has said the finished service area will employ 300 people with an additional 200 people being used throughout the construction process and in working with local suppliers.
No franchises, homemade food and locally-sourced products in the shops and cafes are amongst the selling points offered by Westmorland.
The design should also be innovative, blending in with the landscape and offering "high-sustainability credentials".
To achieve this, Westmorland has joined up with the Gloucestershire Gateway Trust (GGT) charity which has said it will distribute a percentage of the service area's profits to local voluntary groups.
It is hoped that this deal will see £10m being shared amongst community projects over a 20-year period.
These plans were given the stamp of approval by Stroud district councillors in August 2010, with a vote of six to four in favour of the scheme.
But that decision has now been brought before a High Court judge, following an application by two rival service station operators. The Stroud authority has said it intends to defend its case robustly
In June, the chief executive of the GGT, Mark Gale, said he was disappointed a judicial review was being held.
"We are confident Stroud District Council has made the right decision and I think even more concerning is that council tax payers are being forced to spend money defending a democratic decision to protect the interests of monopoly motorway service providers," he said.
AGAINST
Standing in the way are two heavyweight service station chains Roadchef and Welcome Break, the Campaign Against Motorway Service Area and the parish councils of Brookthorpe with Whaddon and Harescombe.
Roadchef, which operates Strensham near J8, said there were five separate reasons why it had sought this judicial review along with Welcome Break, which operates Michaelwood near J14, but both declined to comment because of the legal nature of the matter.
A major part of the fight against the plans has been the effect it would have on the area surrounding Brookthorpe, including designated Area of Outstanding Natural Beauty (AONB) landscape nearby.
Natural England weighed in with its objections during the planning process in January 2010.
In a letter sent to Stroud District Council, it said the development would have "a significant effect on the landscape setting on the Cotswold AONB and a detrimental effect on the landscape character of the Cotswold AONB".
The Campaign to Protect Rural England (CPRE) also added similar concerns, saying "it would be difficult to find a more damaging location for a major service area" with its impact on Robinswood Hill and on the scarp face of the Cotswold Hills.
Richard Lloyd, vice-chairman of CPRE Gloucestershire, said the "over-riding need has not been demonstrated" and a long-term view was needed as motorway traffic levels were falling and rising fuel costs were likely to further reduce demand.
In the local area, two parish councils are objecting to the proposals and a campaign group was formed to give a voice to concerned local residents.
Eric Hibbert, chairman of Brookthorpe with Whaddon Parish Council, said he had two objections - the fact there was no proven need for the service area, and its proposed location.
"This will be the destruction of 66 acres of beautiful land, all for something that is not going to make a profit in my view," he said.
"I think this is a massive white elephant given the current financial climate and the reduction in motorway traffic, and reduction in fuel purchases, and the fact that we're all looking to make savings."
The Campaign Against Motorway Service Area (CAMSA), said the fight dated back to 1994 when the idea of a new service station there was first mooted.
Chris Brent-Smith, from CAMSA, said Stroud district councillors had failed to give much emphasis "to the beauty of the countryside".
He added that Michaelwood services was only roughly 12 minutes south on the M5 and Strensham 16 minutes to the north.
"Is there a need? It is only 32 miles from Michaelwood to Strensham and there are three major junctions (nine, 11 and 12) in between," he said.