Cold snap will attract wintering birds: Slimbridge centre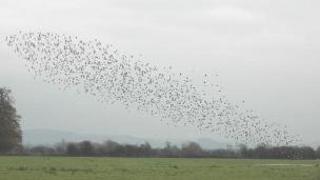 A late influx of wintering birds is expected to arrive in the UK over the next few days, Gloucestershire wildlife experts have said.
Experts at Slimbridge Wetland Centre say that a cold snap could lead to a delayed migration of birds that stayed north due to mild weather.
Large flocks of waders have chosen to remain in the UK compared with recent winters, the centre says.
Mild weather has also led to smaller numbers of swans, geese and ducks.
A Slimbridge spokeswoman said staff expected to see the birds arrive from Saturday morning due to a drop in temperature and changing winds on Friday.
Reserve manager Dave Paynter said: "This warmer, wetter winter has been really interesting for birdwatching, contrasting with the past two winters which have been cold and dry.
"This upcoming cold weather will act as a prompt for birds to move further south and the wind direction will create perfect flying conditions."
Temperatures in Gloucestershire are expected to drop to 0C (32F) and -2C (28F) overnight on Saturday and Sunday.