Hydro power to help Gloucestershire Canal restoration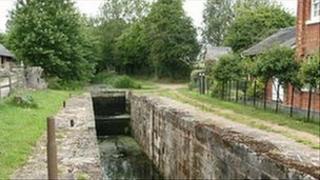 The restoration of a section of the Herefordshire and Gloucestershire Canal is to be partially funded by a hydro electric power scheme.
It is part of the canal trust's plan to reopen a 34-mile (55km) section between Gloucester and Hereford.
The £7m project will see Llanthony Lock, near Gloucestershire College, being brought back into use.
Trust spokesman David Penny said the work had to be financed and the project needed a long-term income stream.
"We've put a package together which will see not only the navigation restored.
"The way we do that will provide some flood relief but will also produce some hydro-electric power on the weir as well."
Mr Penny said he believed the project would provide a £20m boost to tourism for the city and improve conditions for the local wildlife.