Gloucestershire mayor to go to court over census refusal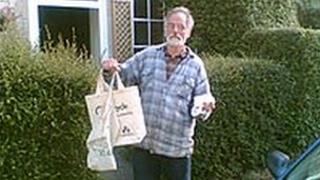 The mayor of a town in Gloucestershire is facing a court hearing for failing to return his 2011 census form.
Stroud mayor John Marjoram, a Quaker, said he refused to complete the form because of his beliefs.
He said he disagreed with the ethics of Lockheed Martin, the company that processed the data, which is one of the world's biggest arms producers.
Mr Marjoram is due to go to court in early February and could face a fine of up to £1,000.
The Stroud town councillor said: "I've been a peace activist for 50 years and if the government hadn't used this company there would have been hardly any problem with the census.
"I've been a councillor for 25 years and I'm also the town mayor and I feel my obligations are to the people of Stroud.
"So I am going to pay the fine because I haven't got time to go to prison basically."
Indigo Redfern, from the Nailsworth meeting, said she also refused to complete the census as the Quakers "have a well established peace testimony".
"I have very little to do with arms manufacturers but in this instance I'm being asked to directly collude with Lockheed Martin - who produce cluster bombs, tridents, cruise missiles.
'Chose prison'
"Just because this activity is to do with the census - all the profits are going into their company and you can't separate the two.
"There are eight of us at the Quaker meeting in Nailsworth who haven't filled in the census and the majority of us would chose to go to prison."
A spokesman for the Office for National Statistics (ONS) said: "The contract was awarded in August 2008 to Lockheed Martin UK in an open procurement contest, carried out under European law, and offered the best value for money.
"The only people who have access to the full census dataset in the operational data centre are ONS staff.
"No Lockheed Martin staff, from either the US parent or UK company, have access to any personal census data."
A census is held every 10 years to find out about the people in the UK, with the most recent on 27 March last year.
Everyone was legally obliged to complete a census questionnaire, to help the government decide how best to plan and deliver public services.