Gloucestershire barn owls move in to 'super-sized' homes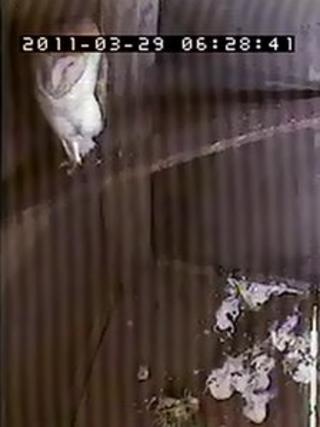 Two barn owls have been spotted in "super-sized" luxury homes installed for them on a farm in Gloucestershire.
Only one "Barn Owl Manor" now remains unused after three 10ft (3m) tall boxes were installed last year for a conservation project in Down Ampney.
Each box is fitted with a high-tech camera system and is big enough to deter other birds from nesting inside.
Farm manager James Taylor said having two boxes in use was "unbelievable", and he was hopeful of a breeding pair.
'Perfect space'
"We'll make sure they are not disturbed and continue to monitor them on CCTV and, with a bit of luck, we might soon see a breeding pair, and even some chicks, before too long," he said.
The farm is one of six across the UK taking part in The Co-operative's Habitat Heroes project to improve the breeding opportunities for species like barn owls, otters, bats and red squirrels.
Vincent Jones, from The Barn Owl Centre in Gloucester which helped create the nesting boxes, said it was "great news".
"They are a perfect space for barn owls and they must feel safe in their 'mini-barns' in the countryside," he added.
"Hopefully they'll stay and make them their nesting sites and, fingers crossed, we could see some youngsters in the spring."