Approval to build rescue boat slipway in Tewkesbury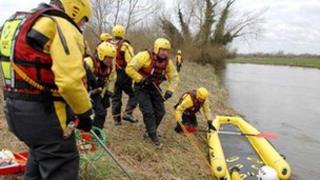 Gloucestershire Fire and Rescue has been given permission to build an emergency slipway on the River Severn.
Because the site was on a village green, permission had to be granted by Defra after a public inquiry ruled in favour of the plans.
The slipway will mean the rescue boat can directly access a stretch of the River Severn close to Tewkesbury town.
As a result, the fire service has said this will improve emergency response times by up to 20 minutes.
The plans were first put forward in 2004 after it was identified that this was the best location for an emergency slipway.
But the application went to public inquiry after local residents feared the slipway would ruin the character of the village green close to Healings Mill.
Despite local opposition the planning inspector allowed the application to go through.
Deputy chief fire officer, Geoff Sallis, said: "Development of the slipway will start as soon as possible to help us continue to keep the people of Gloucestershire safe."