Poet's Gloucestershire home faces second purchase order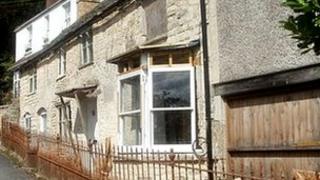 The Gloucestershire home of Welsh poet WH Davies could again face a compulsory purchase order if it is not repaired.
The author of the poem Leisure lived in Glendower, an 18th Century cottage in Nailsworth up until his death in 1940.
Owner and Davies' great-nephew, Norman Phillips, 78, is facing a five-figure sum for repairs and has been unable to live in the property for eight years.
Stroud District Council says it may again step in and take possession if repair work is not carried out.
William Henry Davies, author of the celebrated line 'What is this life if, full of care', moved to Nailsworth in 1928 and lived at Glendower for the final years of his life.
Mr Phillips lived in the Grade II listed property for nearly 60 years, but moved out in 2003 after suffering a heart attack.
Since then, according to Phillip Skill the head of planning for the area, the "building has slowly fallen into disrepair".
"The gentleman concerned is in council accommodation because the building is unfit for habitation so we now have an empty property which we need to deal with," he said.
In September 2010 the council threatened to step in and take possession if essential repairs were not carried out but Mr Phillips successfully applied for planning permission to do the work.
"Unfortunately since we gave planning permission in December 2010 - very little work has actually been carried out - and not enough to arrest the decline of the building.
"Compulsory purchase is not a quick or simple process so we hope by working with the owner we can get the building renovated without going down this route."
Mr Phillips says he has already spent about £40,000 on repairs and wants to move back in.
"I moved out about eight years ago because a beam above my bed had cracked and I was worried that the roof would come in," he said.
"But the roof was fixed about five years ago and now I am waiting for the new kitchen so that I can move back in.
"The council says it's at risk but it's not at risk and if I have to apply for an equity loan, I will."
'Not at risk'
Anthony Burton, who founded Friends of Glendower in 2010 to help in the restoration project, said work was progressing slowly.
"The main structural work undertaken this year has been rebuilding the bay window, and clearing a large part of the back garden, ready for replanting an orchard," he said.
"It is piecemeal but it takes time finding experienced workmen to carry out sensitive work at an affordable cost.
"And I am sure that the council, as owners of Woodchester Mansion, is aware that conservation work is still being carried out there after some 20 years."